At Union Pediatric Dentistry, we offer a variety of sedation options to help your child's dental experience be as positive and comfortable as possible. Sedation is the use of medications to help your child's behavior as he/she undergoes needed dental procedures. It will help increase his/her ability to cope with the procedure and decrease anxiety and discomfort. Below are the different sedation options that are provided at Union Pediatric Dentistry. Dr. Greenhill or Dr. Jennison will help guide you as to what would be the best options for your child.
Nitrous Oxide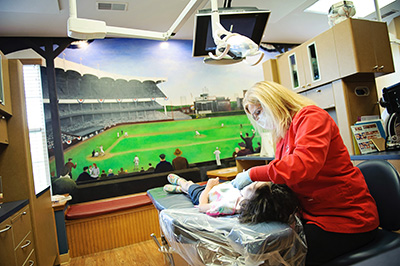 Some children are given nitrous oxide/oxygen, or what you may know as laughing gas, to relax them for their dental treatment. Nitrous oxide/oxygen is a blend of two gases, oxygen and nitrous oxide. Nitrous oxide/oxygen is given through a small breathing mask that is placed over your child's nose, allowing them to relax, but without putting them to sleep. Your child will be able to pick from different flavors i.e. bubble gum, strawberry, grape, or orange. Another added benefit is that once treatment is completed, they will be able to take the mask home with them. The American Academy of Pediatric Dentistry recognizes this technique as a very safe, effective technique to use for treating children's dental needs. The gas is mild, easily taken, then with normal breathing, it is quickly eliminated from the body. It is non-addictive. While inhaling nitrous oxide/oxygen, your child remains fully conscious and keeps all natural reflexes. It is important to remember that this is one tool in helping your child and is most effective in children that exhibit a mild degree of anxiety and have mild to moderate dental treatment needs.
Prior to your appointment:
Please inform us of any change to your child's health and/or medical condition.
Tell us about any respiratory condition that makes breathing through the nose difficult for your child. It may limit the effectiveness of nitrous oxide/oxygen.
Let us know if your child is taking any medication on the day of the appointment.
I.V. Deep Sedation/General Anesthesia
I.V. Sedation is recommended for very apprehensive children and some children with special needs and also have mild to moderate dental treatment needs. Dr. Greenhill or Dr. Jennison will perform the dental treatment in the office with your child anesthetized under I.V. sedation, which is administered and monitored by an anesthesiologist, Dr. Vi Devany. I.V sedation is best suited for those children who have a moderate to high level of anxiety and mild to moderate dental needs.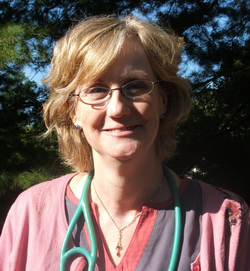 We are very fortunate and proud to work with Dr. Viola Devany. Dr. Devany's specialized expertise and calm demeanor make her a great asset to our practice. Thanks to her services we can now provide comprehensive restorative and surgical care to those anxious and/or young and cognitively immature patients that can not cooperate in the regular dental setting, in the comfort of our office!
Dr. Devany received her bachelor's degree in Biology and Chemistry from Kent State University in 1977. She then went to Ohio State University-School of Medicine where she completed her doctorate in 1980. Dr. Devany is dual trained in Pediatrics and Anesthesiology. She completed her residency in Pediatrics at the Dallas Children's Hospital in 1984. She then went to the University of North Carolina in Chapel Hill where she trained as a resident in Anesthesiology and completed her degree in 1986. Her passion for both specialties encouraged her to complete a post-graduate fellowship in Pediatric Anesthesia at Emory University in 1987. Dr. Viola Devany specializes in In-Office Pediatric Intravenous Sedation and Anesthesia.
Dr. Devany lives in Tipp City, Ohio with her husband Glen. She has three sons; Sam, Greg and Henry, and three cats. In her spare time, she enjoys her involvement in church, reading, playing euchre and visiting with friends.
Outpatient General Anesthesia at Cincinnati Children's Hospital Medical Center
Outpatient General Anesthesia is recommended for apprehensive children, very young children, and children with special needs that would not work well under nitrous oxide or I.V. sedation. Those children with extensive dental needs may be best suited for this option. General anesthesia renders your child completely asleep. This would be the same as if he/she was having their tonsils removed, ear tubes or hernia repaired. This is performed at Cincinnati Children's Hospital Medical Center (Main Hospital or Liberty Campus) in an outpatient setting. For patients with more complex medical needs, an overnight stay may be required. While the assumed risks are greater than that of other treatment options, if this is suggested for your child, the benefits of treatment this way have been deemed to outweigh the risks. Most pediatric medical literature places the risk of a serious reaction in the range of 1 in 25,000 to 1 in 200,000, far better than the assumed risk of even driving a car daily. The inherent risks if this is not chosen are multiple appointments, the potential for physical restraint to complete treatment and possible emotional and/or physical injury to your child in order to complete their dental treatment. The risks of NO treatment include tooth pain, infection, swelling, the spread of new decay, damage to their developing adult teeth and possible life-threatening hospitalization from a dental infection.